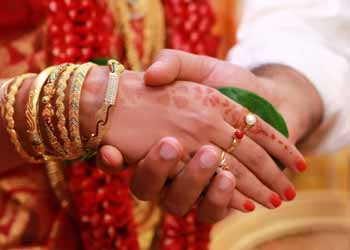 Simple Marriage is a tirumala Hills (Tirupathi) based company which provides professional wedding planning and wedding rental services in order to make your wedding dream a reality. Also we provide professional advice to guide you through your wedding plans. It's solely owned and managed by D.Rama Rao. Our prime duty is to take the stress of wedding planning off from your head which may indulge your wonderful day and make your special day more memorable combined with fun and chic. Wedding wire will cater into your specific needs and make a wedding which reflects your personality and tastes within your desired budget.
If you wish to get rid of the burden of planning your wedding, we relieve you by accepting the entire responsibility of planning your wedding to match with your requirements. We will plan your wedding as you dreamed and allow you to experience a stress free enjoyable wedding. Or else, if you expect to seek our assistance in the selected areas on the day of the wedding or simply rent out the stuff you need for the wedding day, we are always dedicated to provide a more reliable service.
No matter which type of wedding you are going to have, whether it is Telugu Weddings, Tamil Weddings, Kerala Weddings or Kannada Weddings or unconventional theme wedding, we are behind you to provide assistance to make your wonderful day magical and most memorable. Simple Marriage is always ready to provide you a more reliable service by devising a realistic budget, setting practical timeline and providing assistance in the selection of reliable vendors. The list of professional vendors we possess, facilitate you to select the right vendor who suite with your requirement and budget and you do not require to dissipate your valuable time searching for vendors and comparing each of them. So, why wait, let us make your special day more glorious, magical and terrific while saving your money and time.